Info about Joakim Berg - Percussion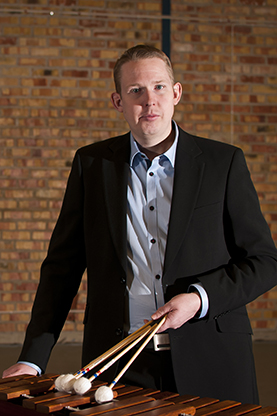 Joakim Berg (born in Alvesta in 1981) has devoted all his life to percussion instruments of all kinds. He has obtained his music- and diploma education at Malmö Academy of Music where he has studied for Lennart Gruvstedt. Since 2006 Joakim is employed as a percussionist at the Royal Swedish Navy Band in Karlskrona. At the same time he works with his solo- and chamber music career.
In 2003 he won the contest "Smålandsolisten" that was arranged by Småland´s music and theatre and in 2006 Joakim was awarded the second price in Ljunggrenska contest for young musicians.
He has made solo performances with several professional orchestras among others Musica Vitae, "Jönköpings sinfonietta" and the Royal Swedish Navy Band. Apart from his solo career he has also been a very popular chamber- and orchestra musician. Joakim has also been heard and seen in Swedish Radio and on Swedish Television.
He has also been awarded a number of scholarships for example the great scholarship of "Kungliga Musikaliska Akademien" (Royal Musical Academy), the county of Kronobers´s musical prize, the city of Växjö and Alvesta´s cultural scholarships.
More info: www.joakimberg.nu