Ljud
Här nedan kan ni lyssna på några exempel av duo FriBergs breda repertoar.
Alla exempel som spelas här är hämtade från duo FriBergs CD. "The Sound of duo FriBerg"

Klicka på respektive stycke för att lyssna.

ur Chillin´ and Hoppin´ - Gregory D. Carroll
Sats 2. Hoppin
ur Song Book
Sats 5. Summer Song
Ancient Music - Tobias Broström
ur Lieder ohne Worte Op. 19- Felix Bartholdy Mendelssohn
Sats 2. no. 2
Sats 4. no. 4
Cirkus Parade - Pierre Max Dubois
Mixed Music - Eckhard Kopetzki
Pequena Czarda - Pedro Iturralde arr: Joakim Berg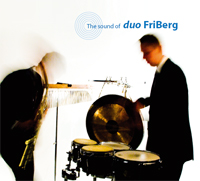 Beställ här!