Sounds
Here you can listen to some sound examples of duo FriBergs wide repertoaire.

All examples are from duo FriBergs CD "The Sound of duo FriBerg".
from Chillin´ and Hoppin´ - Gregory D. Carroll
Movement 2. Hoppin
from Song Book
Movement 5. Summer Song
Ancient Music - Tobias Broström
from Lieder ohne Worte Op. 19- Felix Bartholdy Mendelssohn
Movement 2. no. 2
Movement 4. no. 4
Cirkus Parade - Pierre Max Dubois
Mixed Music - Eckhard Kopetzki
Pequena Czarda - Pedro Iturralde arr: Joakim Berg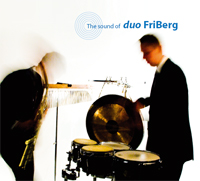 Order CD!