Info about Per Friman - Saxophone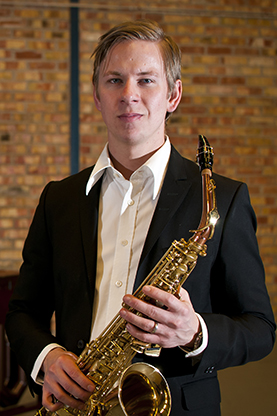 Per Friman (born in Växjö in 1984) is one of the best saxophonists in Sweden, the winner of a number of competitions and scholarships, including a number of scholarships from "Kungliga Musikaliska Akademien" (Royal Musical Academy), Chamber Musicfestival in Båstad, Cultural Sholarships from the city of Växjö and the from the county of Kronoberg. The latest award, Stora Ensos Bruksstipendium, was handed over after a concert arranged by Musik vid Siljan.
He got interested in classical music at an early age and when he was 17 he was admitted to the Stockholm Music Academy and studied for Professor Christer Jonsson.
Per is mostly focused on classical music and is very interested in the classical saxophone. As a soloist he has done a great number of concerts with professional orchestras, you can mention his tour with the well-reputed string ensemble Musica Vitae and concerts with Jönköpings Sinfonietta and SAMI Sinfonietta. Per has also appeared on live concerts by Swedish Radio and TV and is represented in the record company of NAXOS.
Parallel with duo FriBerg and his soloist career Per is a member of the Swedish Saxophone Quartet, the best in Sweden of its kind. Since 2006 he is saxophonist in the Swedish Army Band.
More info: www.perfriman.com